Sunday, April 1st, 2007
---
8:15 pm
- WHOA
So it's definitely been over a year since i have logged on to this.
It's crazy.
But i would like to come back so I'll just try to find some of you old friends that haven't completely turned on LJ due to myspace/facebook.
That is all
Wednesday, November 2nd, 2005
---
10:10 pm
i miss livejournal, i miss the people of livejournal, it's been too long.

current mood:
gloomy
Tuesday, August 16th, 2005
---
6:08 pm
- Sometimes we fight, just so we can make up
First day of school...eh...

Did anyone have Mrs. Wis for Alg 2? I need advice bout that class

I'm satisfied with most of my classes. I wish i knew more people in Video Technology though.

Jeff and I are back, he's a sweetie

I'm ready for Winter
Monday, August 15th, 2005
---
7:16 pm
big brother Bobert's leavin for college tomorrow...



we're gonna miss him...
current mood:
sad
Saturday, August 6th, 2005
---
10:15 am
Wednesday, July 27th, 2005
---
12:34 pm
Jeff and I broke up, but i think for the better. We are still very close so that's a good thing. I am ready for school, i hate to say it, but my karma has been very bad lately so it's only a matter of time before i end up in jail.
Saturday, July 23rd, 2005
---
5:30 pm
-Have You Kissed:

[x] on the cheek.
[x] on the lips.
[x] on their hands or fingers.
[x] in my room.
[x] in their room.
[x] of the opposite sex.
[] of the same sex.
[] a little younger than me.
[x] a little older than me.
[x] with brown hair.
[x] with curly hair.
[x] with blonde hair and blue eyes.
[x] with straight hair.
[] shorter than me.
[] with a lip ring.-
[] with a tounge ring.
[x] who you truly love/loved
[x] who was drunk.
[x] while you were drunk, hahahaha wow
[x] taller than me
[x] who was high.
[ ] in the morning.
[x] right after waking up.
[] just before bed.
[x] late at night.
[x] who I really didn't want to kiss.
[x] who was going out with someone else.
[x] on a bed.
[] two people at the same time
[] right after you've kissed somebody else
[] in a graveyard.
[x] at school.
[x] against a wall.
[] at a show.
[] at the beach.
[x] in a pool.
[] who was/is a good friend.
[x] in the rain
[] with an std
[x] in a car/taxi/bus/truck....an F150, haha
[] on a plane.
[x] in the movies.
[x] in a bathroom.
[x] in the dark
[] on a roof top
[x] under water (don't try it, doesn't work out too well)
[x] while you/they were driving
[] who was a complete stranger
[] at the old folks home
[] at the park
[x] in a shower :0
[x] while people were watching
5:26 pm
me- "Fuck t-mobile in the ass...hard"
caroline- "If I had a nickel for every time i was told to fuck something hard, I'd be a rich girl."




Go see willy wonka
Sunday, July 10th, 2005
---
4:42 pm
- last one of the day i promise, but u had to see my trip
3:25 pm
1. what is gonna happen to you if you pull off the tags that are supposedly "illegal" on mattresses?

2. why does a clock run clock-wise?

3. why do you drive on the right side in the U.S, but on the left side in other places?

4. if love is blind, why is their so much attention given to lingerie?

5. why do they sterilize needles for a lethal injection?

6. why are glasses called glasses if they have plastic lenses and metal frames?

7. if you choke a smurf, what color does he turn?

8. why is there braille on a drive-up ATM?

9. why do they call it a building if it has already been built?

10. why are they called apartments, when they're all stuck together?

11. why is it that you drive on a parkway, and park on a driveway?
Monday, June 27th, 2005
---
12:29 am
- Got this from CAroline cuz it's just too good.
Tell me the experience of how you first met me

current mood:
horrible
Sunday, June 19th, 2005
---
2:54 pm
I miss-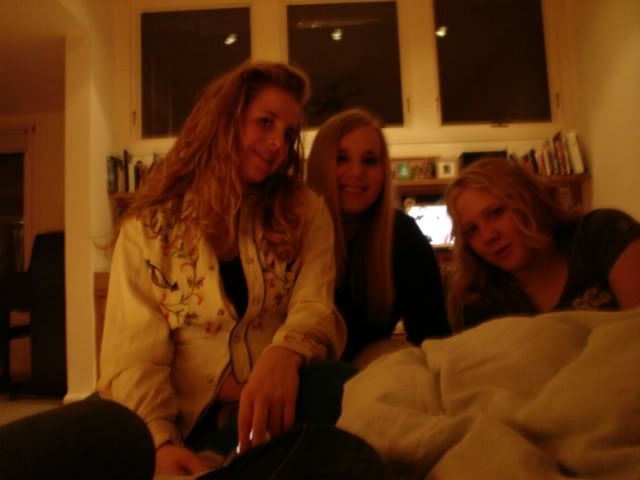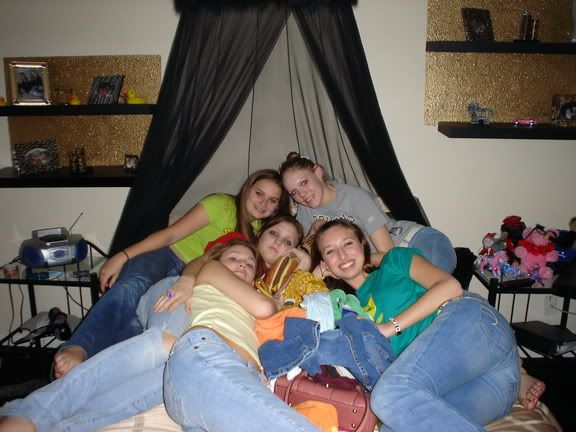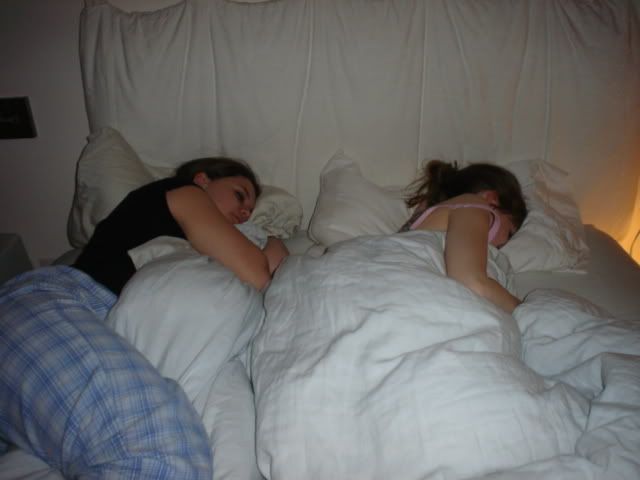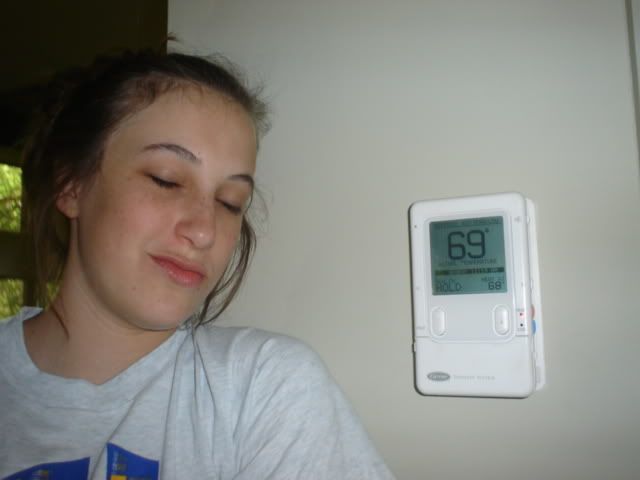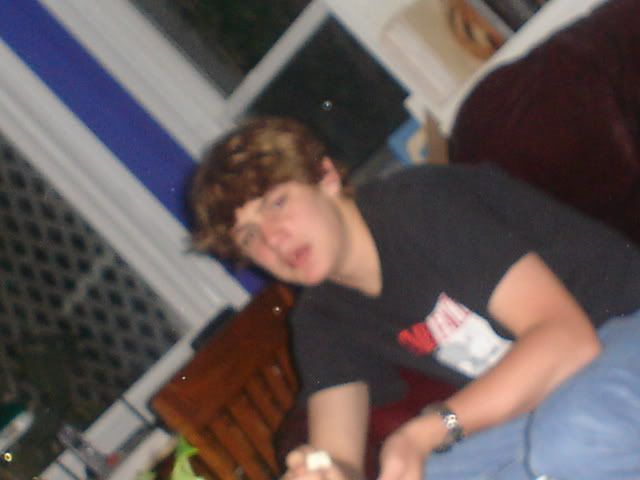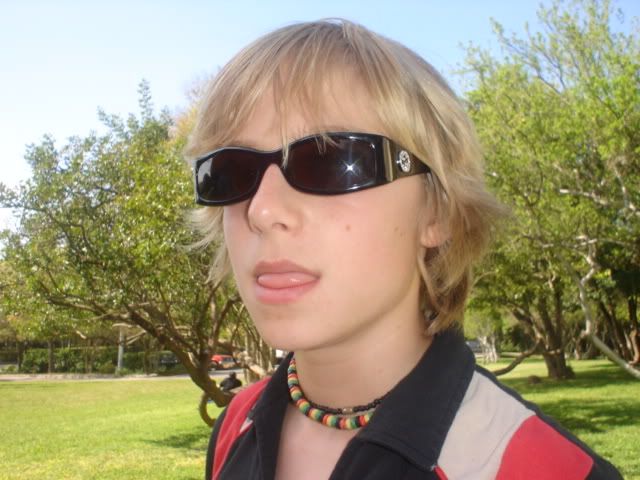 Taken from caroline's pictures
Wednesday, June 1st, 2005
---
4:09 pm
I've just discovered how incredibly straight forward I am...i have no class.

Jeff is the best guy i've ever come across and I hope things stay the way they are.

Chemistry blows.

Peace, <3

current mood:
taken away..
Tuesday, May 17th, 2005
---
11:35 pm
i have a random urge to make out with someone. odd.

current mood:
wanting ass
10:19 pm
F I R S T S

First best friend: lauren mcphereson? elizabeth lyons?
First break-up: mark forgot his last name, 6th

First screen name: Borntodance215
Self-purchased album: definitely Spice Girls, which i still listen to
First funeral: uhhh mom's co-worker?
First pets: Jordan, standard poodle, which i still have.<3
First piercing/tattoo: uhh, tatoo of a butterfly that washed off 2 days later...i thought i was such a hardass.

L A S T S

Last car ride: 1 hour ago with my mother nagging the whole time
Last good cry: last week or so, fuck boys
Last movie seen: That Thing You Do for the 100th time, best movie in the world
Last beverage drank: tropicana orange juice.(no pulp...icky)
Last food consumed: chicken
Last phone call: lincoln
Last time showered: this mornin
Last shoes worn: rainbows,i live in those things...i think i'm starting to see mold?
Last item bought: white skirt
Last annoyance: a girl on spurs who's driving the whole team CRAZY
Last time wanting to die: never, i love life.

S P E C I F I C S

Do you do drugs?: nahh
What kind of shampoo do you use?: pantene, john frieda's brunette
What are you most scared of?: too many things
What are you listening to right now?:silence
Where do you want to get married?: Paris
How many buddies are online right now?: 57. talking to 4

F A V O R I T E S

Color: yellow, pink, purple, orange occasionally
Food: i don't eat anything that was alive at one point. carrots have feelings too
Boy name: enrique
Girl name: shaniqua
Subjects in school: blahhhhhhhhhhh
Abbreviation: Abbr.
Animals: the ones featured on the mating episode on discovery channel
Sports: dance, definitely a sport, don't wanna hear anything else.
Perfume: mademoiselle channel, hahahaha steven's such a dumb bitch.

H A V E Y O U E V E R

Given anyone a bath?: myself...
Smoked?: nahh
Bungee jumped?: i wish.
Made yourself throw up?: negative
Skinny dipped?: ha, god bless the beach
Ever been in love?: nope
Made yourself cry to get out of trouble?: oh, countless times
Cried when someone died?: no
Been rejected?: yupp, by someone on lj
Rejected someone?: yupp
Done something you regret?: no i'm 100% perfect

L A S T P E R S O N

You touched: matt
Hugged: nick
You IMed: casey
IMed you: dennis
Called you: will
You called: caroline
Bought you flowers: lauren miller

W H O D O Y O U W A N N A

Kill: ugh, that girlll
Slap: steven fisher, who has a small penis by the way

W H I C H I S B E T T E R

Coke or Pepsi: pepsi.

Flowers or candy: flowersss

R A N D O M

In the morning I am: sleeping
All I need is: aderol
Love is: gayyy
I dream about: somewhere other than here
What do you notice first: looks, sadly

Last person you danced with: steven
Makes you smile: kristel gonzaba, caitlin bagnall, caroline brown, rowe blount, fletcher mixon, will jackson, nick amick, and of course chidgey
Who has a crush on you: dunoooooo, would like to though

D O Y O U E V E R

Wish you were a member of the opposite sex: girls have more fun
Wish you were younger: no

N U M B E R

Of times I have had my heart broken: 3
Of hearts I have broken: 2
Of guys I've kissed: 8
Of girls I've kissed: none
Of continents I have lived in: 1
Of tight friends: they know who they are
Of CD's I own: too many
Of scars on body: 2
Saturday, May 14th, 2005
---
11:16 pm
Thursday, May 5th, 2005
---
8:46 pm
- *inhale* *exhale* *inhale* *exhale* *inhale * *inhale....* *whew, exhale* etc.
Wow, I'm so stressed/freaked/nervous as hell about Spur officer try-outs tomorrow.

So i jammed out to some hardcore band on Karah's ipod (Norma) in multimedia. Thank you Karah for all your help, i'm much more relaxed.

But still nervous.

Oh well I either make it or I don't.

I love all of you

-L.C.P.-

current mood:
excited
Saturday, April 23rd, 2005
---
9:19 pm
- blahhhhhhhhhhhhhhhhhhh
Damn mother fo-

1. I am on page 50 of a 1077 page book that i have a project and a test over thursday.

2. Because of the previous procrastination, i am grounded tonight.

3. Again, I have procrastinated with the fact that i do not even have a song picked out for my officer try-outs.

4. Steven is grounded, although i did visit him at work today and he looked darn cute in his uniform.

5. I just remembered i have finals to look forward to.


double mert.
Sunday, April 17th, 2005
---
2:38 pm
It's been awhile

i feel so out of the LJ loop

Caroline's gone for the rest of the year and i think i'm not gonna be able to deal with it. She also has a new dog named Austin...coincidental?

I drove on the highway for the first time yesterday...scary as shit.

i need summer

el rancho grande?

current mood:
gloomy
Wednesday, April 13th, 2005
---
8:41 pm
- For Jordan...


wow.

current mood:
content